ICTD Model 9-4 Ion Chamber Training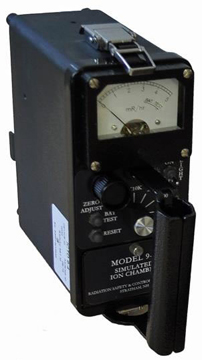 ICTD Features:
Simulates all features and functions of the Ludlum Model 9-4 Ion Chamber
Built with real Model 9-4 hardware
Provides all device controls and beta window
Responds realistically to changes in dose rate
Supports all fault conditions
Designed for manual or automatic dose rate input
Train Your Radworkers To:
Respond to dose rates based on distance to one or more TWR "Live" Sources
Understand 1/R2 principle
Hear audible click rate as radiation levels change
Operate all device controls
Adjust mR/h rate scales
Observe open and closed window response
Recognize device faults and failures
Specifications
Model: ICTD9-4 (Ion Chamber Training Device, Model 9-4)
Physical Dimensions: Same as Ludlum Model 9-4 Ion Chamber Survey Meter
Color: Ludlum beige (Option – black, to discriminate as a training device)
Power Requirements: (2) "D" cell alkaline batteries
Battery Life: Up to 8 hours
Temperature Range: -20 to 50 °C (-4 to 122 °F), temperature compensation maintains calibration within 15% of 25 °C (77 °F) reading
Size: (H x W x L): 23.4 x 8.9 x 21.6 cm (9.2 x 3.5 x 8.5 in.) including instrument handle
Wireless Communication:
IEEE 802.15.4, 2.4 GHz, 0.44 mW
UWB (ultra-wide band) 6.4 GHz (6.2-6.7 GHz), < 0.001 mW
EMI
FCC Part 15 Subpart B, Class A; verified
Industry Canada RSS -220 Issue 1; verified
EU
Features
Operates independently with any SIM-Teq TWR Source (omni-directional), OR manually controlled by instructor
Ludlum external components include; meter movement, switches, case top, battery compartment, handle and case latches – looks, feels and responds like the real meter
Display Range up to saturation (0 – 500mSv/h, 0 – 50,000mR/hr)
Response performance characterized from real instrument
Functional 5-range selector switch, light, zero adjust , battery test and reset pushbutton features
Functional Beta Window with default and programmable measurement offset
NO calibration or setup required
Range of Operation 100 ft. line of sight. Depending upon material composition, obstructions may reduce operational distance. (For both manual and auto dose rate input)
Control Options
Automatically responds to any SIM-Teq TWR Source (omni-directional)
Manual control via Simulation Control Center (SCC) application available from Windows Store, runs on Windows 10® tablet with SIM-Teq USB Dongle.
Manual control of dose rate input
Configurable Open/Close Beta Window measurement offset
Continuous display of current measurement from training meter
Swap between manual control and auto-response to simulated source
Up to 8 training meters independently auto-respond to up to 8 TWR Sources
The SIM-TeqTM System is a wireless training network of simulated dosimeters, survey meters, and TWR Sources managed and controlled by the Simulation Control Center (SCC) application.
SIM-Teq Features
Easy to setup.
SCC application operates on any Windows 10® tablet with a USB Dongle and up to 32 simulator training devices
Wireless direct control of devices through SCC or automatic response of devices to TWR "live"sources.
Multiple models supported. Future training devices seamlessly added.
Free SCC software updates provided via Microsoft Windows Store